4.6 stars
Massive-capacity Sleek and Slim Power bank with fast charging and a very reasonable price.
Superb for use as Pokemon Go backpack powerbank!
What We Like
True 20,100 mAH battery capacity
Slim, narrow and long design
Solid build quality with double-layer inner metal & outer polycarbonate shell
Matte undertstated finish with curvy sides
Quick charging 2.4 Amp Ports
Very low weight for capacity > 12.6 oz or about a soft-drink can
Reasonable Price
What We Do Not Like
Update! The latest version PowerCore 20000 with QC 3.0 comes with QuickCharge 3.0!!! 🙂 The old  version is still available if you do not have a QC 3.0 compatible phone and want to save some money.  We have included shopping links for both…
Does not have Qualcomm QuickCharge which allows charging of the 20000 mAh power banks in 4-5 hrs. However, it is a bit too much to ask in such a reasonably priced powerbank that offers massive capacity in such a light and slim package.
Standard fast charging 2A wall charger will charge Anker PowerCore 20100 overnight (about 10 hours). Regular 1A USB charger will charge it in about 20 hours.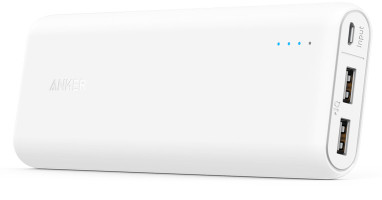 Anker PowerCore 20100 is Anker's latest 20100 mAH capacity equivalent USB power bank available in the market. This excellent power bank has a long, narrow and slim design that makes it very pocketable and portable.
20,100 mAH is some serious battery capacity but the low weight (about 12 oz)  of this mobile USB power bank makes it perfectly suited for your backpack, handbag or carry-on luggage.
Latest Update: Anker Now offers a version of PowerCore 20000 with QC 3.0 for superquick charging. 
Please note that Anker also offers another version of  this 20100 mAH capacity powerbank –  Anker PowerCore+ 20100 USB-C – (Shown on the left) with three USB charging ports instead of the two ports in this version.
The Anker PowerCore+ 20100 USB-C  is priced higher than this version and the one extra port is an USB-Type C port which can charge/run latest 2015+ Macbooks as well as many modern ultrabooks and chromebooks .
Design and Packaging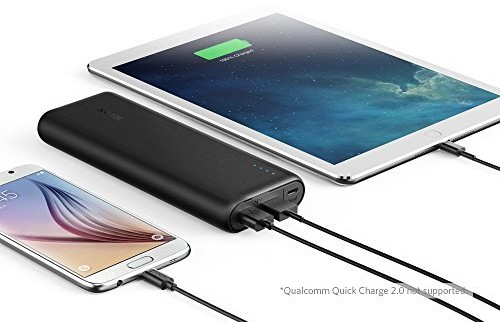 Anker PowerCore 20100 battery bank has to be one of the best looking high capacity power banks in the market. It comes in two matte colors – black and a very cool looking white – with four blue LED indicators.
The matte finish ensures that the outer surface remains fingerprint free and looks subtly beautiful as well.
This powerbank has a dual layer design. The inner metal shell provides protection and ruggedness while the outer polycarbonate layer ensures a smooth outer surface that does not scratch other items in your bag.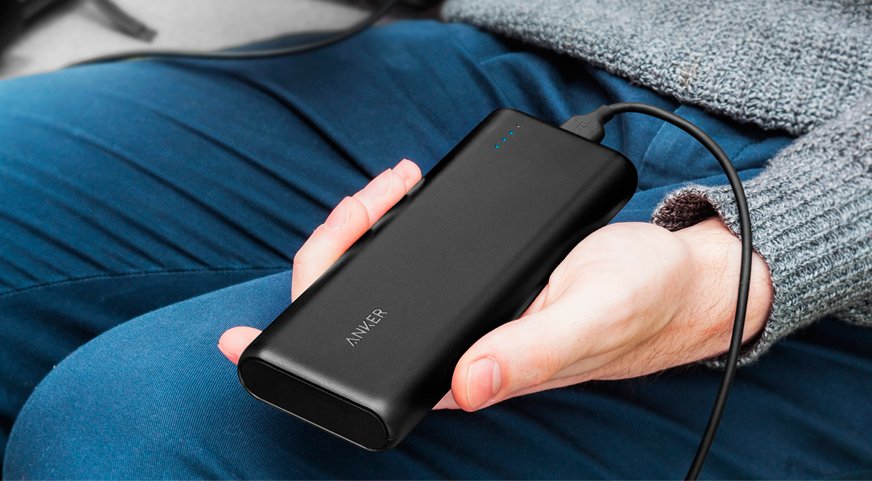 USB battery bank performance
True to Anker's reputation, the Anker PowerCore 20100 battery bank also offers true 20,000 mAH capacity which means that you can charge most smartphones about 5-6 times with this powerbank.
The powerbank uses very high quality 6 Panasonic 18650 3400 mAH NCR18650B batteries which are one of the highest quality batteries available in the market.  The high qualities batteries are reassuring and promise long life and safety.
iPhone 6 – 6 times
Samsung Galaxy S6 – 4 times
iPad Mini – 2 times
Please note that Anker also sells a similar looking Powercore+ 20100 USB-C powerbank which offers 1 additional USB-C type ports besides the regular USB ports of this powerbank and cost much much more.
Two Fast Charging ports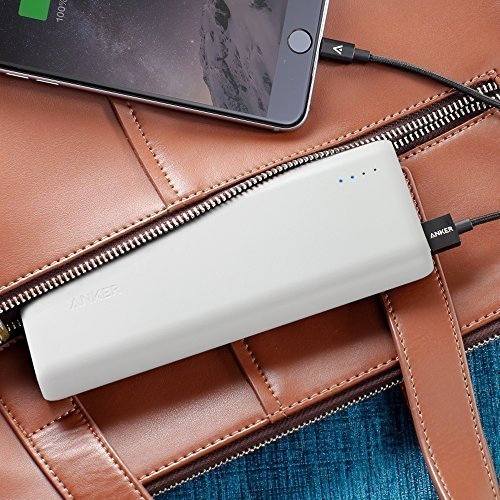 Anker PowerCore 20100 USB battery bank comes with two 2.4 amp fast charging ports. 2.4 amp is the fastest charging ports that you will currently get in the market and with both ports delivering 2.4 amp current, you do not have to worry about remembering the fast charging port.
Latest Update: Anker Now offers a version of PowerCore 20000 with QC 3.0 for superquick charging. The new version can charge compatible devices up to 80% in just half an hour. Here is a complete list of QuickCharge compatible smartphones/tablets. 
All standard safety protections
Anker PowerCore 20100 external battery bank comes with 10 safety protections ranging from surge protection and over voltage protection to  temperature control and output current limiting cut-off. While most of these are available in all quality external battery banks, one feature that we will like to mention here is the Voltage Boost feature.
Voltage Boost feature
Anker claims that the voltage boost feature senses the resistance of the cable and increase current accordingly. This feature is important when you are charging your device using long cables as such cables have high resistance that wastes current and leads to slower charging.
While we always recommend users to use shorter and high quality cables as they make your powerbank charge last longer and charge your device  faster, Anker Voltage Boost feature atleast takes care of one of these issues by increasing current to charge your device faster. However, please note that as increased current will drain your power bank faster too, the best option is still to use a high quality and very short cable to extract maximum power from your power bank and reduce wastage of stored power.