10,000 mAH is a very popular capacity level for powerbanks as it balances portability with adequate backup capacity. A 10000 mAH power bank will recharge most smartphones about three times. The size and weight of 10,000 mAH powerbanks is still small enough to fit in a pocket (or a small purse) which is another huge plus while you are on-the-go.
Here is our pick of three best 10000 mAH power banks that offer the best mix of features, battery capacity, reliability, quick-charging features, portability and price!
#1
Best Overall,  Lightest & Smallest  10000 mAH Powerbank


PowerCore 10000 with Quick Charge 3.0 & PowerCore 10000

This is the latest 10000 mAH powerbank from Anker released in June and is selling like hotcakes as it one of the very few 10000 powerbanks in the market that also offer the latest QuickCharge 3. This lets you charge your smartphones up to 85% in just 30 minutes. But, the biggest factor in making it a smashing it is the price which is same as the earlier version that it replaces.

This charger is really difficult to find on Amazon as it gets sold out quickly. But we have included the direct shopping link  from authorised Anker seller AnkerDirect for you to check its availability.

What We Like
QuickCharge 3.0 for Faaaaaast charging
6.6 ounces weight! Lightest 10000 mAH portable charger
Smallest 10000 mAH charger – even smaller than PowerCore+ 10050
Price!
What We Do not like
Gets sold out on Amazon very fast!
In case you the latest version of PowerCore 10000 is unavailable due to high demand we have also included the link to  the earlier PowerCore 10000 which is easily our next best pick for the best 10000 mAH charger. It  looks and weighs the same 6.6 ounces and has the same size though it lacks the QC 3.0. And in a big plus, is readily available too! 🙂
 #2  
Best 10000 Power Bank with QuickCharge  Input/Output


Anker PowerCore+ 10050

Anker Powercore+ 10050 is one of Anker's three power banks in the 10000 mAH category.  This version comes with Quickcharge 2.0 for both Input and output and is aimed a

It has Quickcharge 2.0 input for rapidly charging the powerbank itself in 3 hours flat using a QuickCharge wall charger.

It has Quickcharge 2.0 output for rapidly charging your smartphones and tablets in about a third time than regular powerbanks.

It is solidly built with a sleek and small design that makes it a stylish and pocketable companion to your smartphones.

PowerCore+ 10050 weighs just 8.3 oz and is 3.8 inches by 2.4 inches. This makes it only slighly larger than a credit card (3.37 x 2.12 inches), ensuring that occupies little space in your jeans pocket or purse.

What We Like!
Both Quickcharge Input & Output for blazing fast charging speeds
Solid and reliable build
What we do not like!
One charging port only though it is a minor concern for a 10000 mAH portable battery.
#3
Best Rugged and Waterproof 10000 mAH Power Bank


RAVPower 10400 mAh

RAVPower is a highly reputed manufacturer of powerbanks. We have only included this rugged version of their 10400 mAH power bank in the list as it offers somthing that the other two powerbanks simply do not offer. This powerbank is waterproof up to 1 meter (IP 66), shock proof and dustproof. This means that if you want to your power bank to join you outdoors in some summer or sea fun, then a splash or a rainy spell will not affect your power backup!

To top other features, it also weighs less at just 8 ounces than most other rugged or non-rugged powerbanks in the market and has a handy fast-charging port and flashlight as well.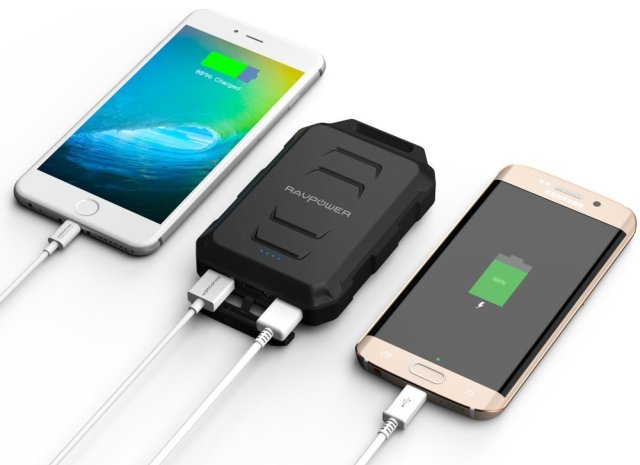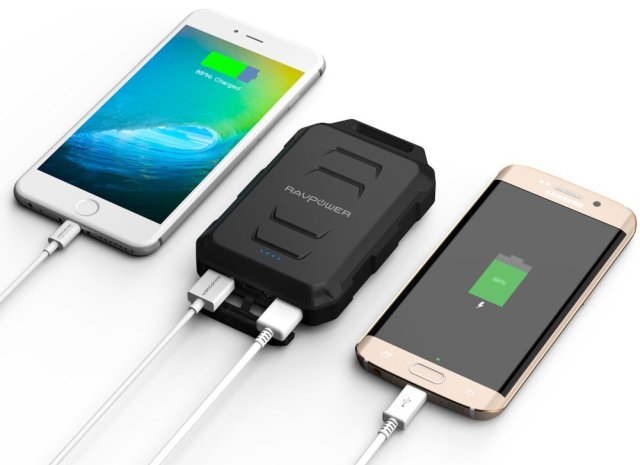 What We Like!
Waterproof (IP66 level which means up to 1 meter of water)
Shockproof & Dustproof
Built-in Flashlight – a nice feature for outdoor use.
Two charging ports
One fast-charging port (2.4A)
Cool looks
RAVpower's excellent 18 month warranty (Anker also offers same warranty).
What we do not like!
At 8.4 ounces, the RAVpower weighs more than #1 and #2 – only reason why it is at #3!