If your portable power backup needs exceed the limited few recharges provided by the normal powerbanks, then 26,800 mAH is the maximum point  at which portable and reasonably priced powerbanks are available. 26,800 mAH (or 100 watt-hours) is also the maximum powerbank capacity allowed by TSA for cabin or carry-on luggage in flights. The latest 26800 Mah massive capacity powerbanks will offer you the ability to recharge most of your smartphones up to 7-10 times (iPhone 6s almost ten times, Galaxy S7 five+ times, iPad Air 2 two times).
The latest 26800 mAH+  power banks weigh as much as previous generation 20000 mAH powerbanks and enable smartphone use for nearly a week without  coming near a wall outlet – an incredibly handy feature for professional users, disaster preparedness kits, mobile gaming and entertainment enthusiasts, power users, outdoor lovers and campers as well as survival enthusiasts.
Here is our pick of three best 26800 mAH power banks that offer the best mix of battery capacity, features, reliability, quick-charging capability, portability and price –
#1
Best Overall  26800 mAH Powerbank


Anker PowerCore+ 26800 (with Quick Charge 3.0 or USB-C PD)

Without QC3.0       With  QC3.0
Wall Charger          Wall Charger

Anker PowerCore+ 26800 is hands down the winner when it comes to massive capacity powerbanks, thanks to its support for the latest QC 3.0 input/output and rock-solid build and finish.  The Anker PowerCore+ 26800  is a sleek and slim device measuring 7.1 inches by 3.1 inches that is just .9 inches thick. It comes with both QuickCharge 3.0 input and output. The QuickCharge 3.0 output feature charges your QuickCharge compatible smartphones up to 80% in just 30 minutes.

The Anker PowerCore+ 26800  comes with a QuickCharge 3.0 wall charger and weighs about 20.8 ounces (590 grams). Here is a list of Quickcharge compatible smartphones/tablets.  Even if your phone does not have QuickCharge compatibility, the PowerIQ feature in this battery pack senses the maximum charging current for your device and can charge at up to 3 Amps – nearly 3 times faster than a standard wall 1 Amp charger.

The QuickCharge 3.0 input feature allows you to charge your massive capacity power bank in about 6.5 hours flat!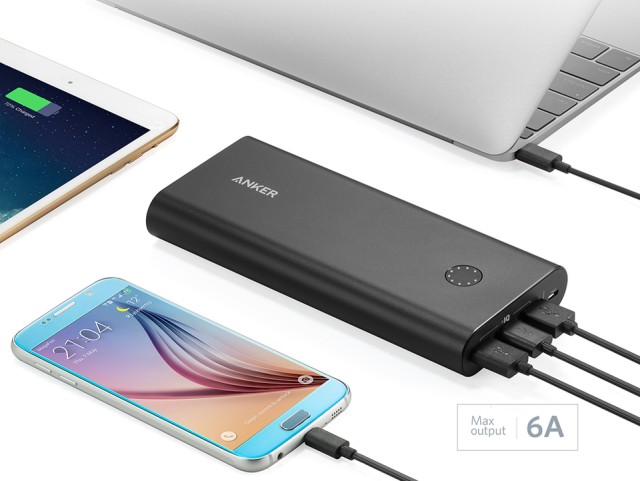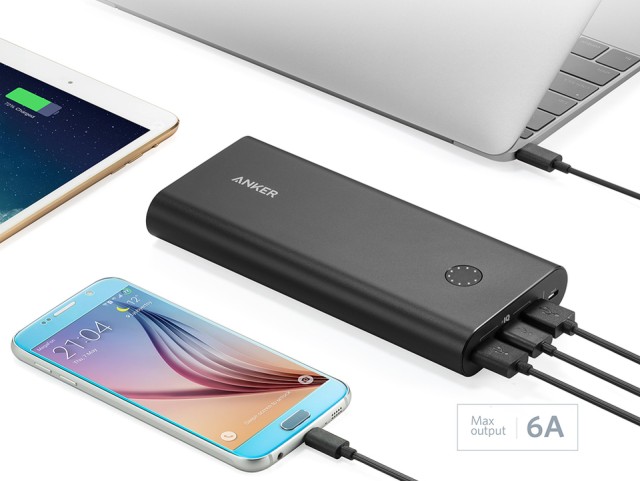 …And in case you are wondering, Anker PowerCore+ 26800  is allowed to be taken in carry-on luggage on flights, both domestic inside US as well as internationally. Its total power capacity is 96.4 Wh – less than the 100 Wh maximum limit set by TSA and other international airline safety authorities.
What We Like
The latest QuickCharge 3.0 – Both Input and Output
Slim, long and stylish design
Robust construction and QC 3.0 wall charger included
Reasonably priced considering its feature-set
10 LED indicator
Three charging ports
6A total output
What We Do not like
No USB-C port. (USB-C PD version now available, though at a higher price. See update below.)
Update: Anker has recently released a version of its PowerCore+26800 powerbank with USB-C PD charging port. The Anker PowerCore+ 26800 PD features a 30-watt USB-C/USB PD port for charging USB-C devices such as the latest Macbooks, many latest laptops, latest high-end phones such as the Samsung Galaxy S8, and other devices such as Nintendo Switch. The Anker PowerCore+ 26800 PD can also be fully charged using the accompanying 27-watt USB-C wall charger in just 4 hours!!
Please note that the  Anker PowerCore+ 26800 PD does not have QuickCharge 3.0 charging  support used by older phones such as Galaxy S7, S6, etc.  The Anker PowerCore+ 26800 PD  comes with a 27-watt USB-C wall charger and its ability to charge USB-C laptops and Macbooks, besides the latest USB-C phones makes it Anker's most versatile portable charger ever.
 #2  
Best Reasonably Priced 26800 mAH powerbank


RAVPower 26800


RAVPower 26800 external battery pack is our second best choice among massive capacity powerbanks. RAVPower 26800 portable charger pack may not have the fancy super-fast charging feature of Anker PowerCore+ 26800 but is easily the best priced massive capacity powerbank with reliable and sturdy design.

RAVPower 26800 powerbank comes with one fast charging 2.4 Amp port that charges your devices more than twice the speed of regular 1A ports. The other two ports are a fast charging 2.1 A port and a regular 1 Amp port. Total output comes to 5.5 Amp.

It also offers 2 Amp rapid input charging which allows you to charge the powerbank in about 14 hours – twice as fast as regular  1 Amp chargers.

RAVPower 26800 USB battery bank measures 6.8 inches x 3.2 inches x .9 inches and weighs about 1 pound.

What We Like!
Price!!! 🙂
Reliability and robustness at same level as the #1
Fast charging 2.4 A ports
Solid build
What we do not like!
No QuickCharge support. Its  2.4A port supports fast charging at more than twice the speed of regular 1 Amp USB ports and 2 Amp input charges it in half time as regular USB chargers.
No fast-charging for the power bank.  This massive powerbank will take long to charge (14 hours+), even with a  2 Amp charger.  Other competitors in this capacity range, , such as EasyAcc Monster 26000mAh mentioned below, come with 4 amp charging (~8 hours), USB-C (~ 4 hours), or Quickcharge charging. (~7 hours).
#3 
Best Priced and Fast Input Charging  26800 mAH Power Bank
EasyAcc Monster 26000mAh Power Bank
EasyAcc Monster 26000mAh Power Bank has a real capacity of 26800 mAH (higher than given on the package). This monster capacity powerbank has an innovative 2-input feature that allows you to charge the powerbank in just 8 hours using two 2 Amp input ports! This clever feature allows you to charge it in half the time taken by the RAVPower 26800 at #2 in the list.
Another distinguishing feature of EasyAcc Monster 26000mAh is its 4 dynamically adjusting USB charging ports. All the four "smart" ports automatically adjust current and can deliver fast charging current up to 2.4 Amp at a single port. Total overall power is limited to 4.8 Amp.
Such a large number of ports may allows you to charge phones for your entire family at once!
The EasyAcc Monster 26000mAh Power Bank measures 6.57 inches x 3.1 inches x 0.86 inches and weighs 1 pound.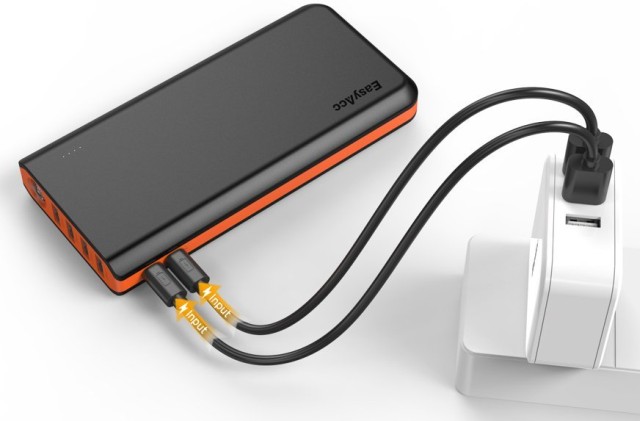 We are ranking it almost as equal to RAVpower 26800 even though it has a total power output of 4.8 Amp compared to 5.5 for the RAVPower 26800. EasyAcc's Monster's dynamically adjusting ports mean that you can plug your phone in any port for fast charging of up to 2.4 Amp per port. However, only two maximum fast charging 2.4 amp ports can be used at a time as total power is limited to 4.8 amp.
The 8 hour fast charging using dual input ports makes it twice as fast to charge than RAVPower 26800. Overall, the two powerbanks compete closely in terms of features and flexibility.
What We Like!
Price!!
Unique 4 Amp dual input that charges the powerbank in 8 hours
Four charging ports
Built-in Flashlight – a nice feature for emergency use.
4 dynamically adjusting ports for up to maximum 2.4 A fast charging at one port.
What we do not like!
Exact data on the cells used is not available unlike Anker and RAVpower products.
Features
Anker PowerCore+ 26800
USB-C PD with
27-watt USB-C wall charger
Anker PowerCore+ 26800
QuickCharge 3.0
with QC wall charger
RAVPower 26800
Anker PowerCore 26800
EasyAcc 26800
USB-C Port with USB-PD for Macbooks, Galaxy S8
QuickCharge 3.0 Output
but has USB-C fast charge output
QuickCharge 3.0 Input
but has better USB-C input
Number of Ports
3
3
3
3
3
Special Features
30 watt USB-PD port for charging Macbooks, Nintendo Switch etc.
Has QC3.0 input and output
Maximum 2.4 Amp fast charging. No USB-C or QC 3.0
Gets charged in 7 hours using dual-input, No USB-C or QC 3.0
Gets charged in 8 hours using dual-input, No USB-C or QC 3.0
Time to charge the powerbank
4-5 hrs
4-5 hrs
~14 hrs
~7 hrs
~8 hrs