PowerBank Guide is reader-supported. When you buy through links on our site, we may earn an affiliate commission.
[yasr_overall_rating size="large"]
4 stars – Good for iPhones 8/7/6s/SE/5s/SE 2020 but battery capacity is not enough for charging Androids phones and new large screen iPhones. Check price before buying. Definitely not worth spending more than $15/£10/€12/20 CAD on it. Better and faster charging alternatives are Aukey 5000 Mini and PowerAdd 5000.
Anker PowerCore+ Mini 3350 Quick Review Summary
Light, small, and Handy one-charge power bank adequate for iPhones 8, iPhone 7 and iPhone SE 2020/6s/6/SE/5s. However, its battery capacity is inadequate to fully charge most Android phones (instead we recommend Aukey 5000 Mini and PowerAdd 5000 or RAVPower 6700 or Anker PowerCore II 6700) Price is on higher side given its modest capacity and slow charging speed of 5-watt. It is still great for small screen iPhones and Anker PowerCore+ Mini 3350 battery pack will full charges all small screen iPhones such as iPhone 8, iPhone 7, iPhone 6s/6 and iPhone 5s/SE etc. one time. It will charge all large screen Iphones (XS/XR/X, 8+/7+ etc.) and most Android phones from 30-40% to 100% once.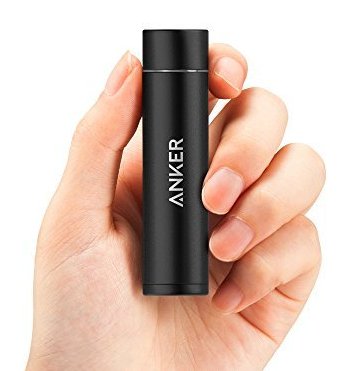 What we like
Short and light at just 2.7 ounces (about that of an egg or 85 gms). True 3350 mAH battery capacity for 1 charge for most smartphones. Solid build quality. Excellent 18 month warranty and customer support.
What we don't like
3350 mAH is enough to fully charge iPhone 8, iPhone 7, iPhone 6s/6 etc. but it is not enough to fully charge from empty the latest big battery smartphones such as iPhone XS Max, XS, X, Samsung S10, S9, S8, S7 etc. Also the charging speed is slower at 1 amp. Few more dollars more will give you double battery capacity for little extra weight. We recommend RAVPower 6700  or Anker PowerCore II 6700 .
For example, Anker PowerCore II 6700 costs just slightly more and offers double capacity and twice the charging speed at 2 amps. Anker PowerCore II 6700 is also our pic as one of the best portable chargers available in the market in the ultra-compact category due to its 5 oz (140 gm) weight. Aukey 5000 Mini and PowerAdd 5000 both are also small sized and charge at 2 amps.
We understand that 1 Amp charging is sufficient for emergency charging and  there is no space for two ports but a 2 Amp port is often very handy!
Tip: You can even get one of these bigger lower priced power banks, charge them to 50%, and then keep them in handbag/bag for 3-4 months for emergency backup (1 full charge for iPhone 8) without losing much charge or damaging the battery. Lithium batteries can be stored for long periods without damaging them at 40-50% charge.
Anker is one of the most popular vendor of external battery banks and Anker PowerCore+ Mini 3350 is one of their bestseller products. Powercore+ Mini 3350 is one of those rare  portable battery bank brands that impressed us by not lying about their product capacity and offer promised quality and performance.
Please note that PowerCore+ Mini  3350 is upgrade of older Astro 2 Mini 3200.
The power bank is 3.5 inches long and about .9 inch thick with a width of .9 inches – almost the same size as a lipstick.
It is available in 5 colors – Silver, pink, gold, blue and black offering plenty of matching and mixing options.
Anker PowerCore+ Mini 3350mAH Portable Charger Charging Performance
The Anker PowerCore+ Mini 3350 will charge most typical smartphones once from 0-30% charge. This makes it an excellent choice for carrying as an additional lipstick sized accessory in your handbag or pocket to accompany your iPhone.
The multiple catchy colors also make it an excellent companion iPhone external battery pack.
However, 3350 mAh battery pack capacity is not adequate for most tablets and the latest generation of Android phones that have 3000 or 4000 mah batteries.
Our recommendation is that buy this  PowerCore+ Mini 3350 Anker battery pack if you have an iPhone 6 or iPhone 5S and just need an ultralight small, cheap, high quality and cute charging option for one time. For more than one charge, few dollars more will give you double or more capacity with excellent Anker USB portable battery banks such as Anker Astro E1 or Anker Astro E3 battery packs.
Similarly, if you have an Android smartphone or a tablet, it is better to go for a higher capacity mobile USB battery bank for few dollars extra.
Build Quality
Anker PowerCore+ Mini 3350 power bank has a robust and solid aluminium metal construction. Fit and finish are excellent overall right to the quality of plastics and the feel of the buttons.
All Standard Device Protections
The PowerCore+ Mini 3350 Anker battery pack comes with all standard device protections such as battery overcharge protection and safety from shorts and surges.
Anker PowerCore+ Mini 3350mAH Battery Review
Anker PowerCore+ 3350 Mini uses a high quality Panasonic Sanyo 3350 mAH battery that delivers full advertised capacity (after the usual 30-35% hit that comes with All external battery banks). The high quality of the battery is a testament of Anker's high build quality and ensures reliability for years.
PowerCore+ Mini PowerIQ and Fast-Charging – Sorry, they do not mean much
Anker claims a unique PowerIQ voltage sensing and fast-charging capabilities. In real world applications these do not mean much except that this power bank has some voltage sensing that all good power banks these days have.
Also remember that PowerCore+ Mini 3350 does not have a true "fast charging" port (2A or 2.1A or 2.4A charging ports). The standard 1A port is okay but the fast charging claim can be ignored.
Overall Anker PowerCore+ Mini Review
Overall, Anker PowerCore+ Mini 3350 is an excellent high quality lipstick sized light power bank for 1 charge for iPhone 8, iPhone 7, 6 and iPhone 5s. For Android phones and more recharge capacity, we recommend Anker PowerCore II 6700 ( read PowerCore II 6700 review) with twice the capacity for a few dollars more or RAVPower 6700  (Read RAVPower 6700 review ) with twice capacity at same price.