It can charge a Macbook, iPad and an iPhone at once!
4.5 stars
Incredible flexibility of 100 watt AC power, USB-C, and USB ports combined with superb price and durable build. The ultimate versatile home as well as outdoors, survival, emergency and camping  use power bank.
What We Like
100 Watt power output – Best in class. Run a huge variety of AC equipment ranging from LED TVs to printers, PC monitors, fans, CPAP machines etc.
TSA approved. Can be carried on flights in carry-on/cabin baggage.
Can be quickly charged in about 6 hours flat!
Standard three-prong regular AC outlet
Two fast charging smart USB ports
USB type-C output – Run your latest laptops such as Macbook Pro directly!
Three USB charging ports in all (USB type-C+ two high-amp USB ports)
Sturdy and high-quality build
True 27,000 mAh capacity
What We Don't Like
No USB-C Input for charging the powerbank itself using USB-C
No direct 18-21 V DC laptop charging pins. Laptops are charged through AC outlet.
Quick Review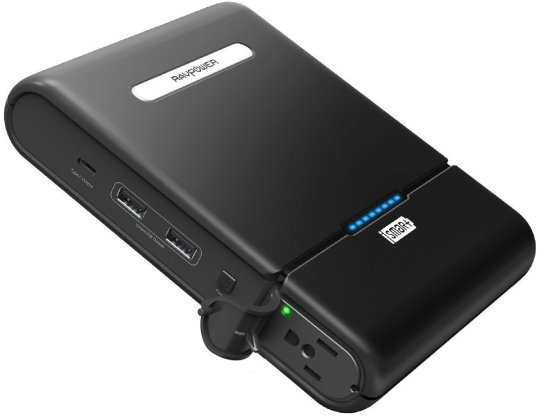 The RAVPower Universal Powerbank 27000 is a unique power bank that offers much more versatality and flexibility than a regular power bank.
This feature-packed power bank opens a world of possibilities in portable power backup by enabling you to run AC electrical appliances with up to 100 watt of required power. This includes Macbook Pros, almost all types of laptops, fans, printers, christmas lights…the possibilities and uses are almost endless.
What is more, it comes with USB type-C charging that allows you to run or charge the latest Macbook Pros or Chromebooks and ultrabooks from it directly. Running capable devices directly using USB-C is more efficient then running them using the AC adapter and allows you to maximize the powerbank's run time.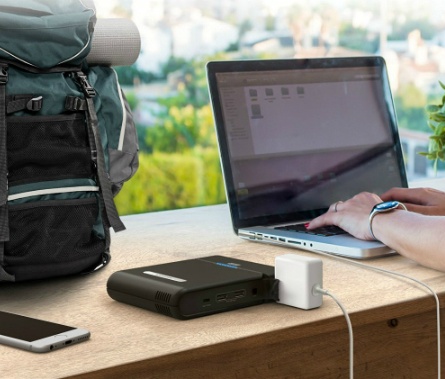 Additionally, it comes with two smart charging USB ports that deliver up to 2.4 Amp of power and automatically sense and adjust charging current. This allows you to charge smartphones and devices such as iPads at their charging speeds over twice as fast as usual charging ports.
The 26,800 mAH capacity (nominal 2700 mAH) makes RAVPower Universal Powerbank 27000 TSA-approved and flight-safe. This allows you to take this powerbank with you in flights and power your Macbook Pros or laptops for entire flight.
All this flexibility and battery capacity comes in a sturdy solidly built package that is priced much lower than other comparable powerbanks.
Fast Charging Input
Despite having a massive 26,800 mAH battery, the RAVPower Universal powerbank gets charged at blazing speed in about eight hours flat as it gets charged at an incredible 19 volts! this is even higher voltage than the QuickCharge 3.0 charging which charges at 12 volts.
This makes  RAVPower Universal powerbank, the fastest charging 26,800 mAH class external battery pack in the market and is a boon for travellers, business people, campers,  survival enthusiasts and other professional users such as photographers.
Design and Build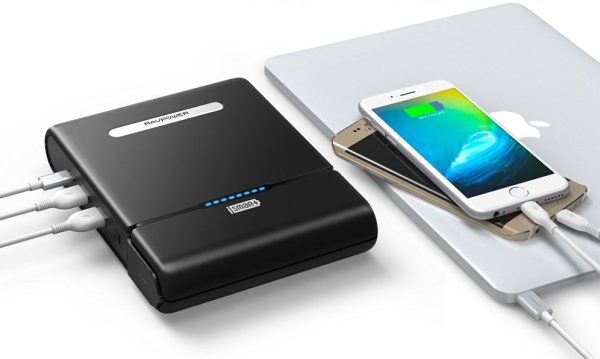 The RAVPower Universal Powerbank 27000 is solidly built with rounded sides and overall sturdy construction. This black matte-finish power bank is quite a handful with dimensions of 5.5 x 6.7 inches, 1.5-inch thickness, and a weight of 29.9 oz but given its capacity and the sheer usefulness of carrying a 100 watt AC power outlet in your pocket, it seems a fair deal. The powerbank offers total four charging ports:
Two iSmart USB ports for charging smartphones at 2.4 Amps.  The iSmart ports sense the required charging current of plugged device and deliver optimum current up to 2.4 amps.
One USB-C output port for charging latest Macbooks and laptops. No USB-C Input is supported.
One three-pronged AC outlet that can deliver up to 100 watts of AC power. The current delivered by  AC outlet depends on the wattage used. For example, at 100 watt, the current output is 0.9 Amp. Some of the countless uses for the AC outlet include running printers, Christmas lights, audio-visual equipment, fans, lights, PAP machines etc.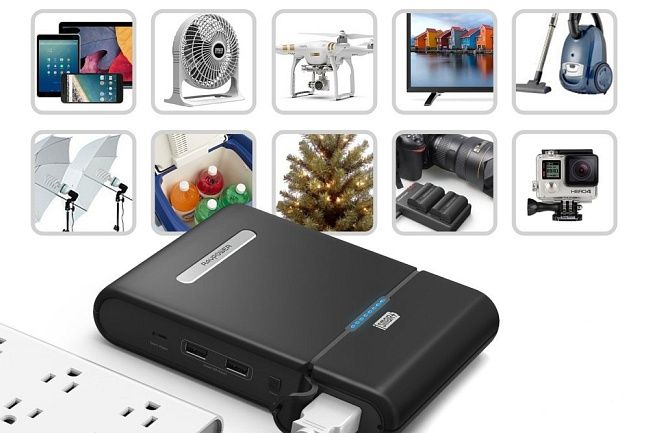 A huge variety of laptops, including Macbook Pros, can be charged through the AC outlet as most laptops draw about 60-100 watts of power. Please note that no direct DC output pins or ports for charging laptops are provided and laptops are charged by AC adapter.
The AC outlet delivers 110 volt output (220 V for chargers sold in European union).
The power bank has vents for cooling for handling the high power output capability of the power bank and this keeps temperatures to normal levels despite extended use. The eight blue indicator lights are very handy for battery-level indication.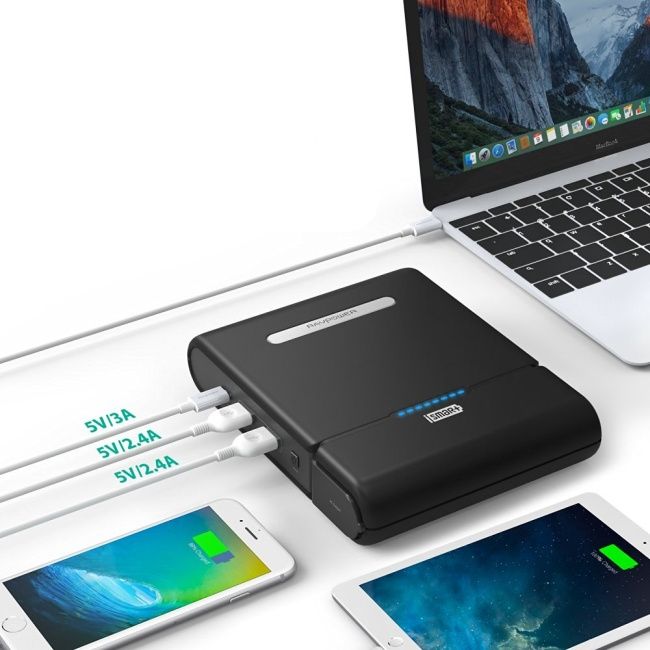 This monster power bank will charge a Macbook Air 2015 more than three times, an iPhone 7 more than 10 times, and a Samsung Galaxy 7 more than 7 times. What is more, it can charge three devices simultaneously through the two iSmart and USB-C ports, allowing you to charge your Macbook Pro or Macbook Air, iPad, and iPhone at the same time!
Please note that RAVPower Universal does not support Quickcharge 2.0 or 3.0 output, it will however charge Quickcharge compatible devices at 2.4 amp fast charging current.
RAVPower Universal Powerbank 27000 vs Chargetech Chargeall
Chargetech ChargeAll 27000 is a direct competitor to RAVPower Universal Powerbank 27000 as both offer AC outlet with 27000 mAH capacity.
RAVPower Universal Powerbank 27000 and Chargetech ChargeAll 27000 are both roughly equivalent to each other and are available at a similar price. However, Chargetech ChargeAll 27000 lacks USB-C port and can deliver only up to 85 watts of AC power compared to 100W of RAVPower Universal Powerbank 27000.
Also, Chargetech ChargeAll 27000 gets charged in just 2.5 hours compared to 6 hours or so taken by RAVPower Universal Powerbank 27000.
We think that both RAVPower Universal Powerbank 27000 and Chargetech ChargeAll 27000 are comparable to each other with RAVPower Universal offering the additional feature of an future-proof USB-C + greater 100W charging power. USB-C  is quickly becoming the standard charging port of the future with latest devices such as Samsung Galaxy S8 and Nintendo Switch sporting it.
Final Verdict
Given it extensive feature list and still reasonable price when compared with competitors, we highly recommend RAVPower Universal Powerbank 27000 for professionals, avid travellers, survival, outdoor and camping enthusiasts and even regular home-owners who may need a handy AC outlet in the event of power cuts or while travelling or for emergency or remote use.