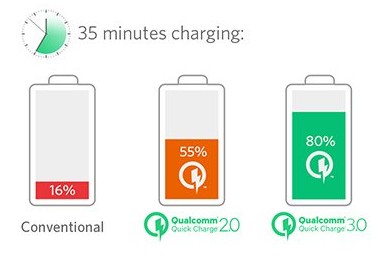 Qualcomm's QuickCharge 3.0 technology has revolutionalised charging speeds for compatible smartphones and tablets. As more and more latest smartphones and powerbanks become QC 3.0 compatible, users can expect to top-up their devices' batteries from zero to 80%  in as little as 30-35 minutes.
Some of the latest smartphones supporting QC 3.0 are Galaxy S7, S6, and S6 Edge, Edge Plus, Note 4 and Note 5, LG G4 and G5, HTC One M8 and Nexus 6 etc. Here is a complete list of QC compatible smartphones/tablets.
While normal massive capacity powerbanks (20,000 to 26,800 mAH) take almost 20-24 hours to charge from regular 1 Amp wall chargers, a QuickCharge 3.0 wall charger will charge even a monster powerbank such as RAVpower 20100 in just 5 hours or a Anker PowerCore+ 26800! in 8-9 hours.
To benefit from the super rapid recharge  times of QuickCharge compatible powerbanks such as RAVPower 20100 (supports QC 3.0 input/output) or Anker  PowerCore 26800+ (support QC 2.0 input/output), you will need a QuickCharge compatible wall charger.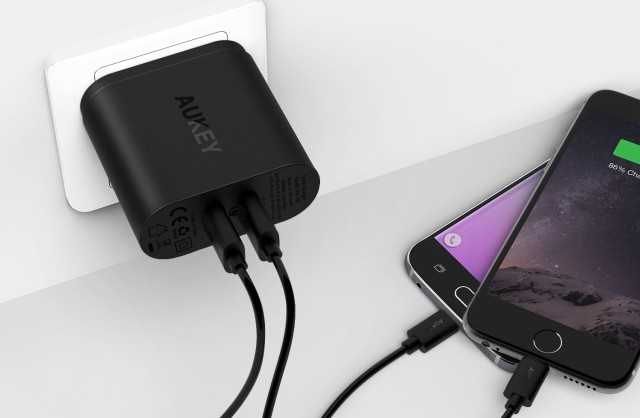 Also, a QC 3.0 compatible wall charger will support the two other latest fast-charging technologies: Motorola's Turbo Charging (used in Moto X, Moto Force etc.) and Samsung's Adaptive Fast Charging (used in Galaxy S6, S7, Edge etc). This will allow you to use a dual port QC 3.0 wall charger as a complete substitute to your phone's charger and charge both your smartphone and your power bank at the same time.
Here is our pick of three best QuickCharge 3.0 compatible wall chargers selected for their solid and reliable build and excellent customer support history. We have only included dual-port chargers as they offer the best balance between price and versatlity –
#1 Aukey USB Wall Charger with Dual Quick Charge 3.0 Ports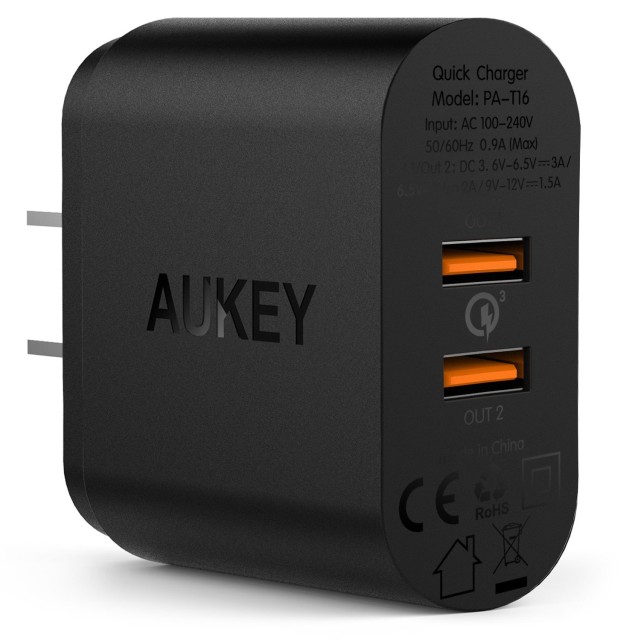 Aukey Dual Charge 3.0 is our top choice among QuickCharge wall chargers as it is the only one that offers two Quickcharge ports! While other QC 3.0 wall chargers offer one QC 3.0 port and one "smart" port, Aukey offers two QC 3.0 ports allowing you to charge both your Quickcharge input powerbank and QC input phone at lightning speed at the same time from the same wall socket!
Both the QC 3.0 ports of Aukey wall charger can also act as smart fast-charging ports for non Quickcharge devices and offer adaptive fast charging current of up to 2.4 Amp.
And to top it all, Aukey USB Wall Charger with Dual Quick Charge 3.0 Ports is available at the same price as other chargers with a single QC 3.0 port! Aukey charger also gets our votes as it is the only charger among the selected three that comes with a 24 month warranty! Our #2 and #3 pick, though being reliable chargers, still come with 18-month warranty.
#2 RAVPower 30W Dual USB Wall Charger Quick Charger with iSmart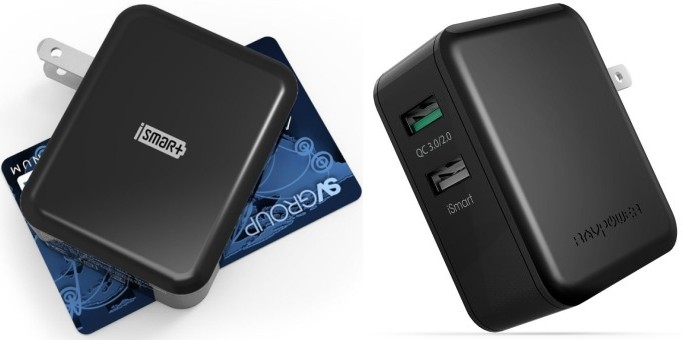 RAVPower 30 watt dual USB wall charger is our second choice among QC 3.0 wall chargers. It comes with one Quickcharge 3.0 port and one iSmart port that can dynamically adjust to your phone's charging current requirements and deliver up to 2.4 Amp of fast charging current.
RAVPower dual wall charger has a foldable design and comes with standard RAVPower 18-month warranty. The wall charger weighs about 3.1 ounces (about 90 gm+).
#3 Anker 31.5W Dual USB Wall Charger PowerPort 2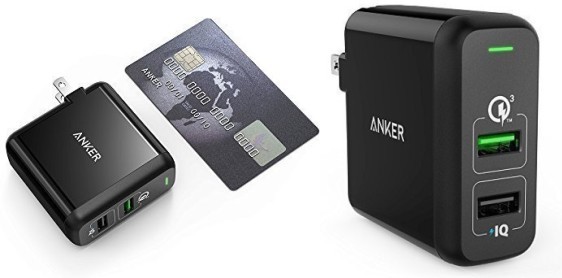 Anker 31.5 watt dual USB charger is our third top choice. This wall charger comes with one QC 3.0 port and one PowerIQ "smart" port that can adaptively offer maximum charging current of up to 2.4 Amp. Anker dual USB charger loses out to the RAVPower dual wall charger at #2 as is priced much higher than it.
Anker's wall charger too has a foldable design and comes with Anker's standard 18-month warranty. This is a hefty solidly built wall charger with a weight of about 4.7 ounces (about 140 gm).