4 Stars
Excellent value for money charger for 3-4 charges. However,  it lacks QuickCharge Input or Output and automatically adjusting dual smart output ports that are available in competing Anker or RAVPower powerbanks.
What We Like
Price! Good value for money
Panasonic Li Ion cells
True 12000 mAH  capacity
Attractive eye-catching design
What We Do Not Like
No QuickCharge Input/Output feature
No dual smart-charging fast ports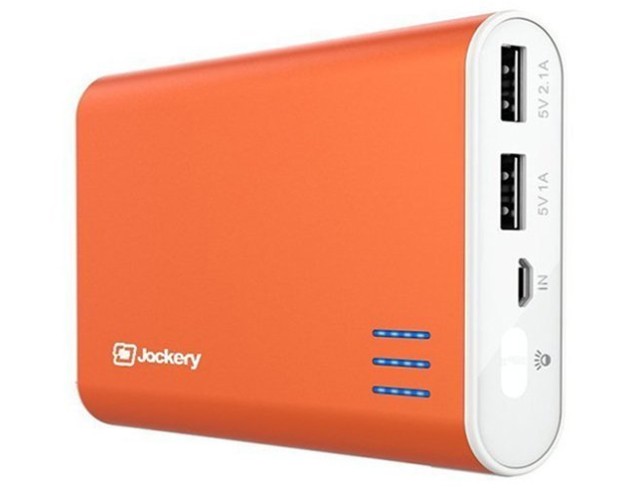 Jackery Giant+ 12000 Powerbank is a good value for money 12000 mAH charger good for charging iPhone 6 about 4 times and Samsung Galaxy S6 about 2.5 times.
The reasonable price and solid and reliable build quality with true 12000 battery capacity is the best selling point for this power bank. However, competing power banks from Anker and RAVPower offer features such as QuickCharge Input and dual fast/smart charging ports and this makes this otherwise excellent charger a good option only when you want a reliable 3-4 charge powerbank at lowest price.
Attractive Design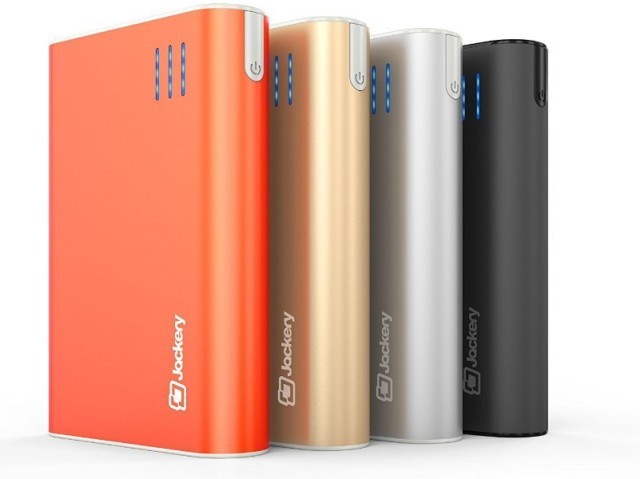 Jackery Giant+ 12000 External battery bank has a solid and eye-catching design that combines with the four attractive color options that make it stand out. The orange option is good for making this powerbank easy to spot among clutter. The powerbank is .8 inches thick and has dimensions of 4.3 inches by 3.1 inches. Outer shell is brushed aluminum and it is easily one of the best looking p[ower banks out there.
The thickness and dimensions are same as other competing powerbanks in this category.
The 10.9 oz weight is a bit on higher side for 12000 mAH charger as 13400 mAH powerbanks of Anker and RAVpower weigh about the same. The powerbank also has a built-in LED flashlight.
Good Overall Charging Performance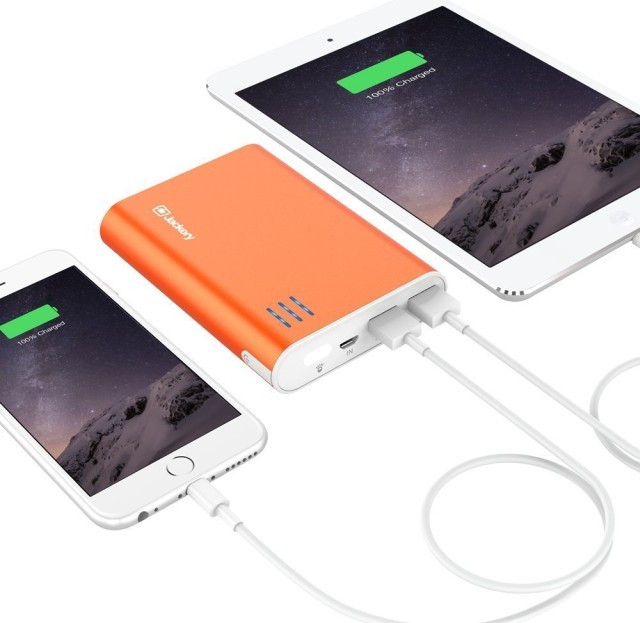 Jackery Giant+ 12000 Powerbank has two charging ports. One port offers standard 1 Amp out put while other offers 2.1 Amp fast output that will charge smartphones/tablets in half time than standard port. The 2.1 Amp charger will also charge the iPad at 2 Amp current.
However, this port configuration is nowhere as good as the powerful 2.4 + 2.1 Amp dual charging ports offered by the RAVPower 13000 or 2.4  + 2.4 Amp dual charging ports offered by Anker PowerCore+ 13400.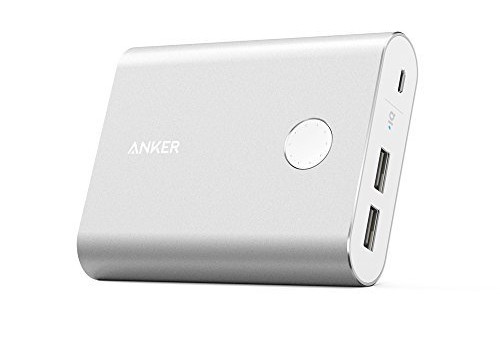 Jackery Giant+ 12000 charges an iPhone 6 about 4 times and a Samsung Galaxy S6 or Note Edge about 2.5 times after a full charge.
The powerbank itself gets charged to full charge from zero in about 7 hours by a 2A wall charger and about 12 hours by a 1 Amp A charger. Lack of QuickCharge or dual smart-charging ports is a big missing thing.
The Competition is Much Ahead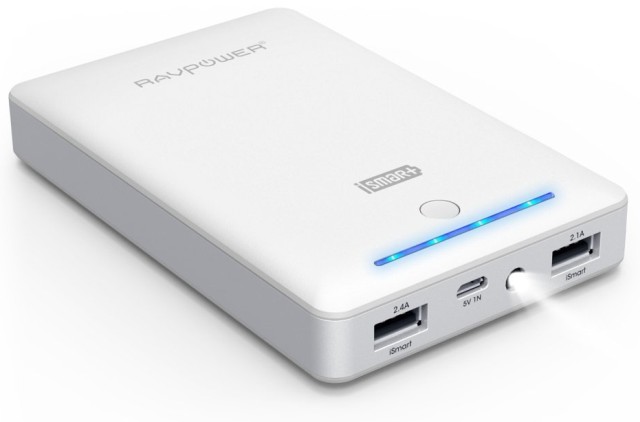 Jackery Giant+ competes with the excellent  RAVPower 13000 external battery bank and the QuickCharge 2.0 Input Anker PowerCore+ 13400 portable charger. Both of them are far superior powerbanks than Jackery Giant+ 12000 as they give higher battery capacity and features.
RAVPower 13000 is our clear recommended powerbank in this range as it offers dual 2.4 + 2.1 Amp smart ports (4.5 Amp total) at an incredible price point.  RAVPower 13000 boasts off all the good point of Jackery and then delivers the added benefit of dual smart ports at an unbeatable price point.
Anker PowerCore+ 13400 is our next favourite powerbank in this range. It offers category best dual 2.4 Amp fast charging ports (total 4.8 Amp) and has the added benefit of Quick charge 2 input which allows you to charge the powerbank in about 5 hours flat using a QuickCharge wall charger. Please note that Anker PowerCore+ 13400 does not come with Quickcharge Output just input. It however has best-in-class dual 2.4 Amp fast charging ports.
Overall, despite being a good quality true-capacity charger, we will not recommend Jackery Giant+ 12000 as RAVPower 13000 and Anker PowerCore+ 13400 – both deliver better features and battery capacity at same weight.